英文全名
Recombinant Streptavidin, Liquid (rStreptavidin,Liquid)
英文别名
蛋白结构

氨基酸序列
MAEAGITGTW YNQLGSTFIV TAGADGALTG TYESAVGNAE SRYVLTGRYD SAPATDGSGT ALGWTVAWKN NYRNAHSATT WSGQYVGGAE ARINTQWLLT SGTTEANAWK STLVGHDTFT KVKPSAAS
Accession
Gene ID
产品英文概述
Streptavidin is a tetrameric protein composed of identic subunits. Each subunit binds one biotin molecule with a KD of ~1×10-15 M. The preparation contains an N- and C-terminal shortened variant (core streptavidin) with improved properties concerning homogeneity, solubility, resistance towards proteolytic degradation and accessibility of the biotin binding pocket as compared to native streptavidin.
来源
分子量
生物活性
外观
Sterile Colorless liquid.
配方
Supplied as a 0.2 um filtered concentrated sterile solution in 20 mM potassium dihydrogen phosphate buffer, pH 6.5.
内毒素
Less than 0.1 EU/ug of rStreptavidin as determined by LAL method.
溶解说明
储存条件
Use a manual defrost freezer and avoid repeated freeze-thaw cycles.- 24 months from date of receipt, -20 to -70 °C as supplied.- Refer to lot specific COA for the Use by Date when stored at ≤ -20 °C as supplied.
参考资料
纯度
> 98 % by SDS-PAGE and HPLC analyses
SDS-PAGE电泳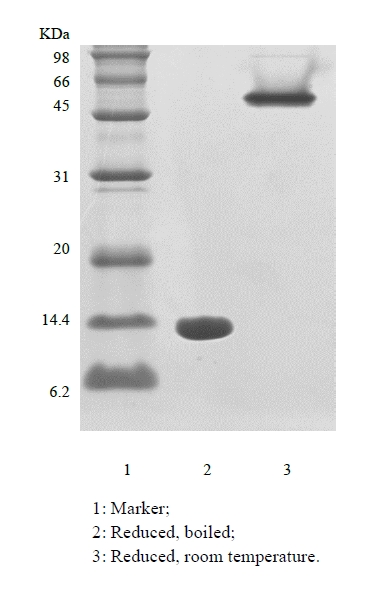 包装规格
10mg/100mg
安全数据表下载 (SDS)
技术参数表下载 (TDS)
品牌链接
Recombinant Streptavidin, Liquid是ChemWhat品牌授权产品并通过沃尔森销售,下面是ChemWhat上的该产品链接 Recombinant Streptavidin, Liquid (rStreptavidin,Liquid)
https://www.watson-bio.cn/wp-content/uploads/2021/11/sds-page-1005-01L-3.jpg
599
371
great_watson-int
https://www.watson-bio.cn/wp-content/uploads/2022/03/New-logo-chi.png
great_watson-int
2021-11-30 11:17:09
2021-11-30 11:17:09
Recombinant Streptavidin, Liquid (rStreptavidin,Liquid)