英文全名
Recombinant Murine Interleukin-3 (rMuIL-3)
英文别名
Hematopoietic growth factor, MCGF, Multipotential colony-stimulating factor, P-cell-stimulating factor.
蛋白结构

氨基酸序列
DTHRLTRTLN CSSIVKEIIG KLPEPELKTD DEGPSLRNKS FRRVNLSKFV ESQGEVDPED RYVIKSNLQK LNCCLPTSAN DSALPGVFIR DLDDFRKKLR FYMVHLNDLE TVLTSRPPQP ASGSVSPNRG TVEC
Accession
Gene ID
产品英文概述
Interleukin-3 (IL-3) is a type of biological signal (cytokine) which is encoded by the IL-3 gene located on chromosome 5 and produced primarily by activated T cells beside human thymic epithelial cells, activated murine mast cells, murine keratinocytes and neurons/astrocytes. The protein acts in hematopoiesis by controlling the production, differentiation, and function of 2 related white cell populations of the blood, the granulocytes and the monocytes-macrophages. In addition, it exerts its biological activities through binding to interleukin-3 receptors included alpha and β subunits. The Mouse IL-3 is different from human IL-3 and contains 140 amino acids residues. Specifically, mouse and human IL-3 share low homology and have not cross species activity.
来源
Escherichia coli.
分子量
Approximately 14.8 kDa globular protein containing 134 amino acid residues.
生物活性
Fully biologically active when compared to standard. The ED50 as determined by the dose-dependent stimulation of the proliferation of murine M-NFS-60 cells is less than 0.05 ng/ml, corresponding to a specific activity of > 2 × 107 IU/mg.
外观
Sterile filtered white lyophilized (freeze-dried) powder.
配方
Lyophilized from a 0.2 um filtered solution in PBS, pH 7.4.
内毒素
Less than 1 EU/ug of rMuIL-3 as determined by LAL method.
溶解说明
We recommend that this vial be briefly centrifuged prior to opening to bring the contents to the bottom. Reconstitute in sterile distilled water or aqueous buffer containing 0.1 % BSA to a concentration of 0.1-1.0 mg/mL. Stock solutions should be apportioned into working aliquots and stored at ≤ -20 °C. Further dilutions should be made in appropriate buffered solutions.
储存条件
Use a manual defrost freezer and avoid repeated freeze-thaw cycles.- 12 months from date of receipt, -20 to -70 °C as supplied.- 1 month, 2 to 8 °C under sterile conditions after reconstitution.- 3 months, -20 to -70 °C under sterile conditions after reconstitution.
参考资料
纯度
> 98 % by SDS-PAGE and HPLC analyses.
SDS-PAGE电泳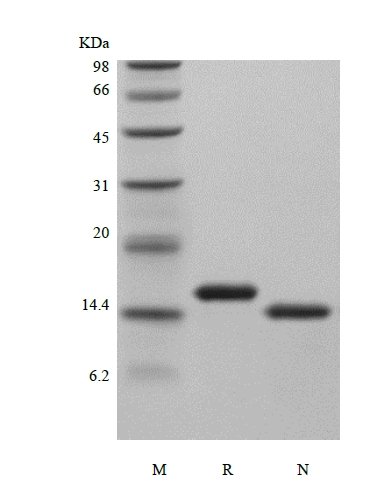 包装规格
10ug/100ug/500ug
安全数据表下载 (SDS)
技术参数表下载 (TDS)
品牌链接
Recombinant Murine Interleukin-3是ChemWhat品牌授权产品并通过沃尔森销售,下面是ChemWhat上的该产品链接 Recombinant Murine Interleukin-3 (rMuIL-3)
https://www.watson-bio.cn/wp-content/uploads/2021/11/sds-page-121-03-4.jpg
499
373
great_watson-int
https://www.watson-bio.cn/wp-content/uploads/2022/03/New-logo-chi.png
great_watson-int
2021-11-30 11:02:41
2021-11-30 11:02:41
Recombinant Murine Interleukin-3 (rMuIL-3)