英文全名
Recombinant Murine Interleukin-10 (rMuIL-10)
英文别名
CSIF
蛋白结构

氨基酸序列
SRGQYSREDN NCTHFPVGQS HMLLELRTAF SQVKTFFQTK DQLDNILLTD SLMQDFKGYL GCQALSEMIQ FYLVEVMPQA EKHGPEIKEH LNSLGEKLKT LRMRLRRCHR FLPCENKSKA VEQVKSDFNK LQDQGVYKAM NEFDIFINCI EAYMMIKMKS
Accession
Gene ID
产品英文概述
Interleukin-10 (IL-10) is encoded by the IL10 gene and expressed in monocytes and Type 2 T helper cells (Th2). The biological activities of IL-10 are mediated by the IL-10 receptor complex, which is composed of the ligand-binding IL-10 Ralpha/R1 and the accessory IL-10 Rβ/R2 subunits. IL-10 is capable of inhibiting the synthesis of a number of cytokines, including IFN-gamma, IL-2, IL-3, TNF and GM-CSF produced by activated macrophages and by T helper cells. IL-10 is classified as a class 2 cytokine which consist of IL-10, IL-19, IL-20, IL-22, IL-24 and IL-26, several interferons and interferon-like molecules. Mature murine IL-10 shares 70 %-77 % amino acid sequence identity with human, bovine, porcine IL-10, but murine IL-10 does not act on human cells.
来源
Escherichia coli.
分子量
Approximately 18.7 kDa, a single non-glycosylated polypeptide chain containing 160 amino acids.
生物活性
Fully biologically active when compared to standard. The ED50 as determined by a cell proliferation assay using murine MC/9-2 cells is less than 1 ng/ml, corresponding to a specific activity of > 1.0 × 106 IU/mg.
外观
Sterile filtered white lyophilized (freeze-dried) powder.
配方
Lyophilized from a 0.2 um filtered solution in PBS, pH 7.4.
内毒素
Less than 1 EU/ug of rMuIL-10 as determined by LAL method.
溶解说明
We recommend that this vial be briefly centrifuged prior to opening to bring the contents to the bottom. Reconstitute in 10 mM HCl to a concentration of 0.1-1.0 mg/mL. Stock solutions should be apportioned into working aliquots and stored at ≤ -20 °C. Further dilutions should be made in appropriate buffered solutions.
储存条件
Use a manual defrost freezer and avoid repeated freeze-thaw cycles.- 12 months from date of receipt, -20 to -70 °C as supplied.- 1 month, 2 to 8 °C under sterile conditions after reconstitution.- 3 months, -20 to -70 °C under sterile conditions after reconstitution.
参考资料
纯度
> 97 % by SDS-PAGE and HPLC analyses.
SDS-PAGE电泳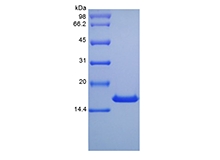 包装规格
10ug/100ug/500ug
安全数据表下载 (SDS)
技术参数表下载 (TDS)
品牌链接
Recombinant Murine Interleukin-10是ChemWhat品牌授权产品并通过沃尔森销售,下面是ChemWhat上的该产品链接 Recombinant Murine Interleukin-10 (rMuIL-10)
https://www.watson-bio.cn/wp-content/uploads/2021/11/sds-page-121-10-4.jpg
160
220
great_watson-int
https://www.watson-bio.cn/wp-content/uploads/2022/03/New-logo-chi.png
great_watson-int
2021-11-30 11:02:41
2021-11-30 11:02:41
Recombinant Murine Interleukin-10 (rMuIL-10)