英文全名
Recombinant Human Ubiquitin-conjugating Enzyme E2 R1 (rHuUBE2R1)
英文别名
蛋白结构

氨基酸序列
MARPLVPSSQ KALLLELKGL QEEPVEGFRV TLVDEGDLYN WEVAIFGPPN TYYEGGYFKA RLKFPIDYPY SPPAFRFLTK MWHPNIYETG DVCISILHPP VDDPQSGELP SERWNPTQNV RTILLSVISL LNEPNTFSPA NVDASVMYRK WKESKGKDRE YTDIIRKQVL GTKVDAERDG VKVPTTLAEY CVKTKAPAPD EGSDLFYDDY YEDGEVEEEA DSCFGDDEDD SGTEES
Accession
Gene ID
产品英文概述
来源
Escherichia coli.
分子量
Approximately 26.7 kDa, a single non-glycosylated polypeptide chain containing 236 amino acids.
生物活性
No data available.
外观
Sterile Colorless liquid.
配方
A 0.2 um filtered concentrated solution in 50 mM HEPES, pH 7.0, with 125 mM NaCl, 10 % Glycerol, 5 % Trehalose, 1 mM DTT.
内毒素
Less than 0.1 EU/ug of rHuUBE2R1 as determined by LAL method.
溶解说明
储存条件
Use a manual defrost freezer and avoid repeated freeze-thaw cycles.- 6 months from date of receipt, -20 to -70 °C as supplied.- 3 months, -20 to -70 °C under sterile conditions after opening.
参考资料
纯度
> 95 % by SDS-PAGE and HPLC analyses.
SDS-PAGE电泳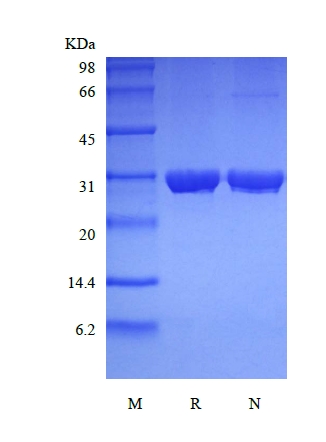 包装规格
5ug/100ug/500ug
安全数据表下载 (SDS)
技术参数表下载 (TDS)
品牌链接
Recombinant Human Ubiquitin-conjugating Enzyme E2 R1是ChemWhat品牌授权产品并通过沃尔森销售,下面是ChemWhat上的该产品链接 Recombinant Human Ubiquitin-conjugating Enzyme E2 R1 (rHuUBE2R1)
https://www.watson-bio.cn/wp-content/uploads/2021/11/sds-page-501-34A-3.jpg
442
326
great_watson-int
https://www.watson-bio.cn/wp-content/uploads/2022/03/New-logo-chi.png
great_watson-int
2021-11-30 11:29:08
2021-11-30 11:29:08
Recombinant Human Ubiquitin-conjugating Enzyme E2 R1 (rHuUBE2R1)