英文全名
Recombinant Human Transforming Growth Factor – beta 2 (rHuTGF-beta2)
英文别名
蛋白结构

氨基酸序列
Accession
Gene ID
产品英文概述
来源
Mouse myeloma cell line, NS0
分子量
生物活性
Measured by its ability to inhibit the IL-4-dependent proliferation of HT‑2 mouse T cells. The ED50 for this effect is 0.025-0.25 ng/mL.
外观
Sterile Filtered White lyophilized (freeze-dried) powder.
配方
Lyophilized from 0.2 um filtered concentrated solution in 35 % Acetonitrile and 0.1 % TFA.
内毒素
Less than 0.1 EU/ug of rHuTGF-beta2 as determined by LAL method.
溶解说明
We recommend that this vial be briefly centrifuged prior to opening to bring the contents to the bottom. Reconstitute in sterile 4 mM HCl to a concentration of 0.1 mg/ml. Stock solutions should be apportioned into working aliquots and stored at ≤ -20 °C. Further dilutions should be made in appropriately buffered solutions.
储存条件
Use a manual defrost freezer and avoid repeated freeze-thaw cycles.- 12 months from date of receipt, -20 to -70 °C as supplied.- 1 month, 2 to 8 °C under sterile conditions after reconstitution.- 3 months, -20 to -70 °C under sterile conditions after reconstitution.
参考资料
TGF-beta2 is a pleiotropic cytokine that regulates immune function, cellular proliferation, and epithelial-mesenchymal transition. It shows cross-species activity in the development of cardiac, lung, craniofacial, limb, eye, ear, and urogenital systems. Latent TGF-beta is activated by proteolytic cleavage of the mature cytokine from the latency-associated peptide. TGF-beta2 signaling involves the accessory receptor Betaglycan, TGF-beta RII, and a type I TGF-beta receptor, resulting in the activation of Smad signal transduction.
纯度
> 97 % by SDS-PAGE analyses.
SDS-PAGE电泳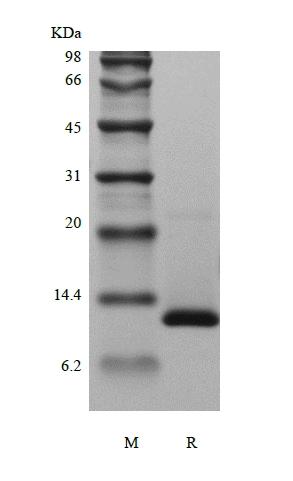 包装规格
5ug/100ug
安全数据表下载 (SDS)
技术参数表下载 (TDS)
品牌链接
Recombinant Human Transforming Growth Factor – beta 2是ChemWhat品牌授权产品并通过沃尔森销售,下面是ChemWhat上的该产品链接 Recombinant Human Transforming Growth Factor – beta 2 (rHuTGF-beta2)
https://www.watson-bio.cn/wp-content/uploads/2021/11/sds-page-105-42-3.jpg
481
293
great_watson-int
https://www.watson-bio.cn/wp-content/uploads/2022/03/New-logo-chi.png
great_watson-int
2021-11-30 11:17:09
2021-11-30 11:17:09
Recombinant Human Transforming Growth Factor - beta 2 (rHuTGF-beta2)