英文全名
Recombinant Human Osteopontin/OPN (rHuOsteopontin/OPN)
英文别名
蛋白结构

氨基酸序列
Accession
Gene ID
产品英文概述
来源
Mouse myeloma cell line, NS0
分子量
生物活性
Measured by the ability of the immobilized protein to support the adhesion of HEK293 human embryonic kidney cells. When 1 × 105 cells/well are added to a rHuOsteopontin/OPN coated plate, cell adhesion is enhanced in a dosedependent manner after 1 hour incubation at 37 °C. The ED50 for this effect is typically 0.1-0.6 ug/mL. rHuThrombin proteolytic treatment of this rHuOsteopontin can increase HEK293 cell adhesion by about 5-fold.
外观
Sterile Filtered White lyophilized (freeze-dried) powder.
配方
Lyophilized from 0.2 um filtered concentrated solution in PBS, pH 7.2.
内毒素
Less than 0.1 EU/ug of rHuOsteopontin/OPN as determined by LAL method.
溶解说明
We recommend that this vial be briefly centrifuged prior to opening to bring the contents to the bottom. Reconstitute in sterile PBS to a concentration of 0.1 mg/ml. Further dilutions should be made in appropriately buffered solutions.
储存条件
Use a manual defrost freezer and avoid repeated freeze-thaw cycles.- 12 months from date of receipt, -20 to -70 °C as supplied.- 1 month, 2 to 8 °C under sterile conditions after reconstitution.- 3 months, -20 to -70 °C under sterile conditions after reconstitution.
参考资料
Osteopontin (OPN), also known as SPP1, Eta-1, or BSP, is a highly acidic, 45-75 kDa secreted molecule in the SIBLING family of matricellular proteins. It can be variably modified with O- and N-glycosylation, sulfation, phosphorylation, and transglutamination. OPN binds several integrins and can bind additional integrins after it is proteolytically cleaved. OPN is prominently expressed in mineralized tissues. It inhibits bone mineralization and kidney stone formation and promotes inflammation, cell adhesion, and cell migration. OPN expression is upregulated during inflammation, obesity, atherosclerosis, cancer, and tissue damage, and it contributes to the pathophysiology of these conditions.
纯度
> 95 % by SDS-PAGE analyses.
SDS-PAGE电泳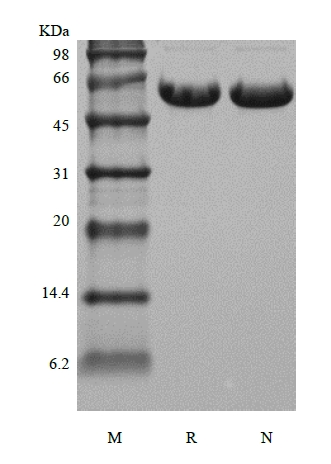 包装规格
10ug/100ug
安全数据表下载 (SDS)
技术参数表下载 (TDS)
品牌链接
Recombinant Human Osteopontin/OPN是ChemWhat品牌授权产品并通过沃尔森销售,下面是ChemWhat上的该产品链接 Recombinant Human Osteopontin/OPN (rHuOsteopontin/OPN)
https://www.watson-bio.cn/wp-content/uploads/2021/11/sds-page-606-03-3.jpg
464
331
great_watson-int
https://www.watson-bio.cn/wp-content/uploads/2022/03/New-logo-chi.png
great_watson-int
2021-11-30 11:17:09
2021-11-30 11:17:09
Recombinant Human Osteopontin/OPN (rHuOsteopontin/OPN)