英文全名
Recombinant Human Fibroblast Growth Factor 16 (rHuFGF-16)
英文别名
蛋白结构

氨基酸序列
AEVGGVFASL DWDLHGFSSS LGNVPLADSP GFLNERLGQI EGKLQRGSPT DFAHLKGILR RRQLYCRTGF HLEIFPNGTV HGTRHDHSRF GILEFISLAV GLISIRGVDS GLYLGMNERG ELYGSKKLTR ECVFREQFEE NWYNTYASTL YKHSDSERQY YVALNKDGSP REGYRTKRHQ KFTHFLPRPV DPSKLPSMSR DLFHYR
Accession
Gene ID
产品英文概述
来源
分子量
Approximately 23.6 kDa, a single non-glycosylated polypeptide chain containing 206 amino acids.
生物活性
Fully biologically active when compared to standard. The ED50 as determined by thymidine uptake assay using FGF-receptors transfected BaF3 cells is less than 0.5 ng/ml, corresponding to a specific activity of > 2.0 × 106 IU/mg.
外观
Sterile Colorless liquid.
配方
Supplied as a 0.2 um filtered solution in 20 mM Tris-HCl, 1 M NaCl, pH 9.0, with 0.02 % Tween-20, 10 % Glycerol.
内毒素
Less than 0.1 EU/ug of rHuFGF-16 as determined by LAL method.
溶解说明
储存条件
Use a manual defrost freezer and avoid repeated freeze-thaw cycles.- 6 months from date of receipt, -20 to -70 °C as supplied.- 3 months, -20 to -70 °C under sterile conditions after opening.
参考资料
Fibroblast growth factor 16 (FGF-16) belongs to the large FGF family. All FGF family members are heparin-binding growth factors with a core 120 amino acid (a.a.) FGF domain that allows for a common tertiary structure. FGF-16 was originally identified in rat heart tissue by homology based polymerase chain reaction. Human FGF-16 cDNA predicts a 207 aa precursor protein with one N-linked glycosylation site. FGF-16 lacks a typical signal peptide, but is efficiently generated by mechanisms other than the classical protein secretion pathway. Among FGF family members, FGF-16 is most similar to FGF-9, sharing 73% aa sequence homology. Human FGF-16 shares 99% and 98.6% aa sequence identity with the mouse and rat FGF-16, respectively.
纯度
> 98 % by SDS-PAGE and HPLC analyses.
SDS-PAGE电泳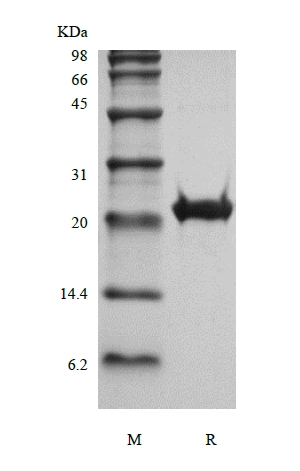 包装规格
5ug/100ug/500ug
安全数据表下载 (SDS)
技术参数表下载 (TDS)
品牌链接
Recombinant Human Fibroblast Growth Factor 16是ChemWhat品牌授权产品并通过沃尔森销售,下面是ChemWhat上的该产品链接 Recombinant Human Fibroblast Growth Factor 16 (rHuFGF-16)
https://www.watson-bio.cn/wp-content/uploads/2021/11/sds-page-104-16-3.jpg
471
300
great_watson-int
https://www.watson-bio.cn/wp-content/uploads/2022/03/New-logo-chi.png
great_watson-int
2021-11-30 11:26:49
2021-11-30 11:26:49
Recombinant Human Fibroblast Growth Factor 16 (rHuFGF-16)