英文全名
Recombinant Cholera Toxin B subunit (rCTB)
英文别名
蛋白结构

氨基酸序列
TPQNITDLCA EYHNTQIYTL NDKIFSYTES LAGKREMAII TFKNGAIFQV EVPGSQHIDS QKKAIERMKD TLRIAYLTEA KVEKLCVWNN KTPHAIAAIS MAN
Accession
Gene ID
产品英文概述
Cholera toxin (also known as choleragen and sometimes abbreviated to CTX, Ctx or CT) is protein complex secreted by the bacterium Vibrio cholerae. CTX is responsible for the massive, watery diarrhea characteristic of cholera infection. The cholera toxin is an oligomeric complex made up of six protein subunits: a single copy of the A subunit (part A, enzymatic), and five copies of the B subunit (part B, receptor binding), denoted as AB5. Subunit B binds while subunit A activates the G protein which activates adenylate cyclase. The five B subunits – each weighing 11 kDa, form a five-membered ring. The A subunit which is 28 kDa, has two important segments. The A1 portion of the chain (CTA1) is a globular enzyme payload that ADP-ribosylates G proteins, while the A2 chain (CTA2) forms an extended alpha helix which sits snugly in the central pore of the B subunit ring. This structure is similar in shape, mechanism, and sequence to the heat-labile enterotoxin secreted by some strains of the Escherichia coli bacterium.
来源
分子量
Approximately 11.6 kDa, a single non-glycosylated polypeptide chain containing 103 amino acids.
生物活性
No data available.
外观
Sterile colorless liquid.
配方
Supplied as a 0.2 um filtered solution in 5 mM PB, pH 7.0, 75 mM NaCl, with 50 % glycerol.
内毒素
Less than 0.1 EU/ug of rCTB as determined by LAL method.
溶解说明
储存条件
Use a manual defrost freezer and avoid repeated freeze-thaw cycles.- 6 months from date of receipt, -20 to -70 °C as supplied.- 3 months, -20 to -70 °C under sterile conditions after opening.
参考资料
纯度
> 98 % by SDS-PAGE and HPLC analyses.
SDS-PAGE电泳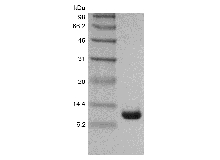 包装规格
100ug/500ug
安全数据表下载 (SDS)
技术参数表下载 (TDS)
品牌链接
Recombinant Cholera Toxin B subunit是ChemWhat品牌授权产品并通过沃尔森销售,下面是ChemWhat上的该产品链接 Recombinant Cholera Toxin B subunit (rCTB)
https://www.watson-bio.cn/wp-content/uploads/2021/11/sds-page-6A6-05-3.jpg
160
220
great_watson-int
https://www.watson-bio.cn/wp-content/uploads/2022/03/New-logo-chi.png
great_watson-int
2021-11-30 11:21:48
2021-11-30 11:21:48
Recombinant Cholera Toxin B subunit (rCTB)